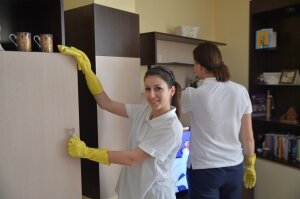 Considering your specific requirements as a client our End of Tenancy Cleaning team  will bring your property in state of cleanliness you have never dream of. Appointments for our cleaning services can be arranged with our office operatives. You could have a cleaner and fresher  home in just few hours time. If you prefer End of Tenancy Cleaning team to clean your place thoroughly it would be definitely done by our cleaners and you would be able to relax and focus on other important things.
You can be sure that when you order an house cleaning London service our teams will be polite and professional, and they gonna do the job effectively and efficiently. Our cleaning teams pay attention even to small details, this is why we maintain high standards and these are the key elements in certain cleaning jobs.
For end of tenancy cleaning service in London we provide the following services: cleaning bathrooms and kitchens, washing and cleaning floors, vacuum carpets and laminate floors, cleaning mirrors, dusting and polishing furnishings, cleaning cobwebs, fireplaces, polishing cabinets, cleaning the fridge, ovens and microwaves, cleaning surfaces, tidying etc.
Our professional cleaning staff of trained cleaning operatives employed with End of Tenancy Cleaning understands the importance of doing a complete and comprehensive end of tenancy cleaning service, which leaves your house, flat, home or office clean. Each of our spread all over London cleaning teams are formed from professional and trained cleaners which can do professional cleaning if you are moving out. End of tenancy cleaning may be done at the client convenience, we can be flexible and we can suit everyone.
Our cleaning company provides and extensive end of tenancy cleaning suitable for any sizes one-bedroom, two-bedroom, three-bedroom or maisonette property. Our post tenancy cleaning service give you guarantee that you will have a deeply cleaned house. Our end of tenancy services can help you to get your deposit back by cleaning your property to the highest standards.
Bathroom house cleaning:
Clean bath
Clean shower
Clean the toilet sit
Clean and disinfect toilet, clean behind toilet
Clean sink and polish taps
Clean and polish mirror
Wipe and clean walls in bathroom
Wipe light switches
Remove mould
Clean shower glass and polished the metal frames
Kitchen house cleaning:
Wipe kitchen cupboards from outside and inside
Clean microwave remove grease components
Clean oven thorough remove all the grease
Clean and polish sink and taps
Clean all counter-tops
Clean windows
Clean extractor top and polish it
Clean table and chairs
Polish stainless steel surfaces
Dusting all surfaces
Bedroom's house cleaning:
Dusting all surfaces and skirting boards
Vacuum floors
Mop tiled, vinyl or wooden floors
Air freshen and deodorize
Clean cobwebs
Clean light switches and sockets
Clean radiators
Clean all door surfaces and door knobs
Our cleaners are very dedicated by doing the job, they provide first class service to all our customers. Most of our client base comes through repeat cleaning. We know the best way how to keep clients coming back by maintaining quality services. To book an cleaner in London is not a luxury, our prices are very competitive. So call us today and book your cleaners.