End of Tenancy Cleaning is a very popular service among the citizens of London who live in rented apartments or houses, but also among landlords who let their properties for rent. For many years, our cleaning company is focused exactly in the implementation of this service as we do not separate our customers in groups of landlords and tenants but just strive to give our best in cleaning. For us End of Tenancy Cleaning means carefully and thoroughly cleaning of every corner of your home. No part of the property will be left untouched from our professional crew and you will be able to deal with the most important things related to moving out. You can fully trust us and rely the End of Tenancy Cleaning in our hands and you will be surprised how neat and organized your property will become. Perhaps you're concerned whether you will get your deposit back which will only happen if you meet your landlord requirements and leave the property in the state as when you moved in. Our employees will focus even in the smallest details during cleaning, so we guarantee you will the get whole deposit back at the end of your rental period.
We have spent more than eight years in the cleaning business and we have built our reputation as the number one provider of cleaning services on a high level in London area. We strictly observe the working process and our commitment to you, our workers arrive at the agreed time to meet their obligations. Detailed and thorough cleaning is what you will get from them in order to have no concerns about the quality of work. Because we know that time is pressuring you and need as quickly as possible to bring your home in impeccable condition we will come as soon as possible. If for some reason you are not satisfied with the performance of our End of Tenancy Cleaning we'll come back within 3-7 working days to do a free of charge cleaning.
Our professional cleaning company works not only with tenants and landlords but also with letting agents, construction companies and property managers. All of them are very happy with our service and fully rely on us because we always approach it the right way and listen to their requirements. If you want to learn more just visit our reviews page, where many of them have shared their impression from our cleaning company.
For us End of Tenancy Cleaning means: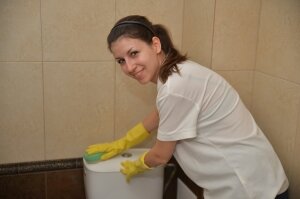 deep and comprehensive cleaning of the whole property as our expert professional staff will pay special attention to the most polluted zones in your home. You can expect from them nothing but the best cleaning you have ever received and fully satisfaction of your demands. End of Tenancy Cleaning from our company includes cleaning of all rooms, floors, stairs, vacuuming carpets, dusting and polishing all surfaces, cleaning kitchen appliances, sanitizing bath and toilet, cleaning furniture, mopping floors, removing mould, odor and lime scale, cleaning windows and many other different operations. Kitchen, bedrooms, bathroom, stairs, living room, all rooms in your home will shine with cleanliness because we are real experts in cleaning services. We are ready to perform carpet cleaning as additional service so you can take advantage and order End of Tenancy Cleaning along with carpet cleaning for your property.
For our professional cleaning procedures we entirely rely on our knowledgeable technicians ready to meet your needs related to cleaning. Choosing us for your assistant in End of Tenancy Cleaning have to be informed that all our staff comes with very high recommendations and extensive training to our standards. Another benefit of our cleaning company is that we use the latest innovations of cleaning equipment such as machines, tools and solutions on the market very efficient in removing all contamination, stains and grease from all surfaces. Detergents used for the End of Tenancy Cleaning are absolutely safe and harmless, without toxic and harsh ingredients.
Many people might think that after such a presentation of our company, the prices of our services will be very high for quality work is expensive. Our main goal is to offer professional cleaning services at reasonable rates so that every customer can afford it. Take a quick look at our pricelist to find out that our prices are really unbeatable.
If it's time for End of Tenancy Cleaning do not waste your time and contact us on 020 immediately. For your convenience your lines are open 7 days a week, 24 hours a day. On the phone we have very useful operators who can provide you with free estimate or help you with booking. Using our request a service online form can order services directly.